Welcome

Netscape 4+ is recommended for best viewing of this page at 800 x 600 pixels.
An Awarded Site
Aiming to share information and experience in keeping and breeding cichlids & other fishes.
Thank you Sydney Cichlid Page for awarding this site: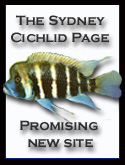 Visit the The Sydney Cichlid Page
RETURN TO TOP
LINKS TO MY FAVOURITE FISH SITES
Visit the EARTH CHARTER and consider its values and principles. CLICK HERE
ENVIRONMENT AUSTRALIA: The Department of the Environment and Heritage Site.
EMAIL
This site belongs to Wal Anderson on members.ozemail.com.au and is a designated safe place